MAKE YOUR SKATE CANADA CLUB EVEN MORE SUCCESSFUL
Uplifter is Skate Canada's first and only Trusted Partner for Skating Club Software and now its National Partner for Competition Registration Software. We provide easy to use, yet highly customizable, skating club software that can reduce your Skate Canada club administration efforts while elevating your members' entire club experience.
Focus on what matters most...
your Skate Canada members!
What happens when you automate your member registrations, payments, participant evaluations and club administration tasks? You get happier families, happier volunteers, happier staff and happier participants who stay with your club longer.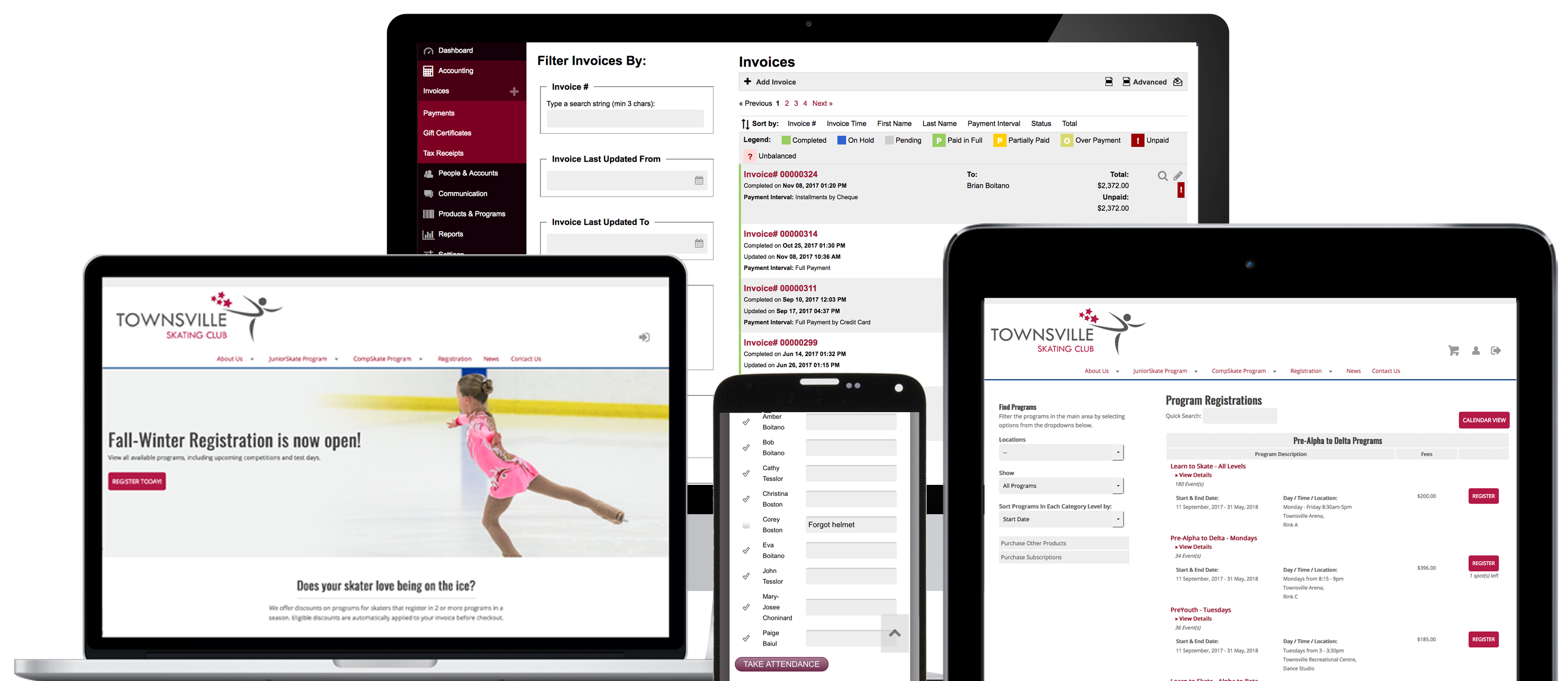 With Uplifter's club management software you can:
Automate time-intensive administration tasks
Make registering online fast & simple for families
Accurately track the progress of your participants
Clearly see your club's financial and membership health
Boost member engagement & satisfaction
Ensure a consistent club experience online
Maintain ownership of your private member data

Online Registration

Allow a family of participants to quickly register online on a single invoice

Multi-Payment Options

Pay online by credit card and club gift certificate or offline by cash/debit/cheque

Reporting

Generate robust club financial and membership reports

Email

Easily communicate to select groups within your membership

Real-Time Operations

Provide members with real-time program availability, club registrations, wait lists, invoices and payments

Automated Payments

Automate your instalment payments, pro-rating of program fees, plus offer a variety of family/program discounts

Class Management

Group participants, take attendance, track athlete skill development on the ice using an iPad/tablet or iPhone/smart phone

Athlete Profiles

Show skaters (and parents!) their progress, development goals and latest achievements

Club Website Management

Easily create and manage your club website through Uplifter or seamlessly integrate unbranded Uplifter features into your existing website
AND OUR NEWEST FEATURES...
Automate Skater Registration Submissions to Skate Canada

Now you can query, verify and submit your skater membership registrations directly to the Skate Canada Member Database without needing to access the Members Only portal

Serialized Ticket Sales

Sell tickets online and redeem at your event using a mobile phone (perfect for ice shows, ticket ice, gala banquets and more)
UPLIFTER OVERVIEW VIDEOS
The following videos provide Skate Canada clubs and schools with an overview of Uplifter's robust online registration, club administration and athlete achievement tracking features. Further down the page you will also find answers to frequently asked questions from Skate Canada clubs. Should you have any questions after watching the videos and reviewing the FAQs, please do not hesitate to CONTACT US.
If your club is interested in a no-obligation free trial:
Choose our 30-Day Free Trial
PART 1: Online Registration (4:58)
PART 2: Family Accounts (2:35)
PART 3: Administration Access & Features (2:18)
PART 4: ACCOUNTING FEATURES (3:06)
PART 5: CLUB MEMBER & PARTICIPANT MANAGEMENT (1:36)
PART 6: CLUB COMMUNICATION TOOLS (2:46)
PART 7: CREATING SEASONS, PROGRAMS, SUBSCRIPTIONS, DISCOUNTS & VOLUNTEER ROLES (3:26)
PART 8: CLASS MANAGEMENT & ATHLETE EVALUATIONS (2:18)
PART 10: CUSTOMIZATION SETTINGS (1:44)
PART 11: CLUB WEBSITE MANAGEMENT (1:43)
WEBINAR
Introduction to Uplifter Webinar, May 10th
FREQUENTLY ASKED QUESTIONS
How are you affiliated with Skate Canada?
We are a 100% Canadian-owned, independent technology developer based out of Oakville, Ontario. We developed our club management technologies to support the success and growth of clubs and athletes in all types of athletic categories. Skating, however, is our passion and we first developed Uplifter specifically to support our local Skate Canada skating club.
We have been supporting a growing number of Skate Canada sanctioned clubs from coast to coast since our launch in 2011, and today are proud to be Skate Canada's first and only PREFERRED PARTNER FOR SKATING CLUB MANAGEMENT SOFTWARE. This partnership enables us to provide value-added features tailored to Skate Canada clubs and schools, such as Skate Canada skill evaluation tools and report cards, and automated submission of annual Skate Canada Member registrations to the Skate Canada Member Database.
We support Skate Canada clubs and schools in every province and territory, including small clubs of less than 50 skaters, such as Skate Gillam in Manitoba, to large clubs of 2000+ skaters, such as Skate Oakville in Ontario. Our system is also multi-lingual, making it a powerful tool for supported bilingual clubs.
Will our club's Uplifter system connect to Skate Canada's new member database?
Yes! Uplifter is fully integrated with the new Skate Canada Membership Database. Clubs using Uplifter can query, verify, and acquire Skate Canada membership numbers plus automate submissions of annual Skate Canada member registrations directly to the membership database, saving countless hours.
Can we use the Uplifter system with our existing club website?
Yes, for clubs that wish to continue hosting their own website, the Uplifter registration and member/administrator login page can typically be integrated seamlessly into their existing club site. NOTE: Our club website management tool, however, is very easy to use and comes included at no extra cost with your Uplifter system… so chances are you'll prefer the many benefits of hosting your club website through Uplifter!
How long will it take to set-up my club's Uplifter system?
We can have your club's Uplifter system set-up within 1-2 business days. It then takes only a small group of club administrators approximately 4-6 hours (2-3 evenings) to go through our QUICK START GUIDES, during which time you will optimize the Uplifter system for your club, including creating your first season and club programs. We also recommend club administrators allow for 1-2 weeks to test their system and build a familiarity with the various Uplifter features, such as registering online, editing invoices, and managing wait lists. If your club will be offering online credit card payments, you will also need to allow approximately 5-14 business days to set-up both a merchant account (with a provider of your choice) and a merchant gateway account with our provider, BeanStream. We can provide your club with helpful documentation on that process.
How secure is my club's Uplifter system?
As secure as it gets! Uplifter adheres to some of the most stringent data security protocols for Software-as-a-Service providers. Unlike many online registration and club management systems on the market, Uplifter installs every club on their own club database in a secure cloud-server environment with geographic redundancy and full daily Uplifter system backups. Your club members and administrators will always access your club's Uplifter system through your club's own website url (not get shuffled off to some other website). In addition, Uplifter maintains your club's PCI compliance by using token-based secure merchant gateway payment pages for member's paying with credit cards. In other words, neither your club nor Uplifter will be storing member credit card data, ever. What a relief, eh?
What does it cost to use the Uplifter system?
We offer three different service plans, each with a low monthly fee and low payment transaction fee with special discounted rates for Skate Canada clubs (see below). In other words, you only pay a fee for Uplifter's entire suite of club management tools once a club member has already paid you! All plans include free lifetime functionality upgrades to the club management system and 24/7 access to our online Learning Centre and support team via email and online chat.
PREFERRED PARTNER PRICING FOR
SKATE CANADA

CLUBS
Start Up
★
Begin by boosting your club membership!
Includes:
Real-time online registration
Automated wait lists
Automated discounts and subscriptions
Online product sales
Basic member & participant management
Printable class lists
$25
per month
+
0.5%
per transaction
Enquire
Step Up
★★
Go further by enhancing your club community!
Includes:
All of START UP plus…
Simple tools to build and manage your club website
Member email and message post tools
Use your own club website address
$45

  $25

per month
+
0.75%
per transaction
Enquire
Fully Uplifted
★★★
Get it all by automating your club and athlete management!
Includes:
All of STEP UP plus…
Dynamic class management
Attendance tracking
Athlete goals and achievement tracking
Athlete skill evaluation tools
Instructor/staff check-in
28+ customizable reports
Serialized ticket sales
PLUS our newest features:
Duplicate entire seasons and programs at a click of a button
Provide preferred program pre-registration to specific members
Lock invoice line items to ensure balanced books
And MUCH MORE!
Save even more!
Pre-pay your monthly fee:
1 year = Save $5/month
2 years = Save $8/month
3 years = Save $12/month
Your club may also qualify for additional
MONTHLY TRANSACTION VOLUME DISCOUNTS
Start Up
Step Up
Fully Uplifted
Online Registration & Product Sales
Pay online by credit card or offline by cash/debit/cheque
★
★
★
Member and Participant Management
including online Family Accounts
★
★
★
Export Class Lists
for use with Excel and for printing
★
★
★
Website Management Tools
to easily build and update a club website
★
★
Member Communication Tools
Send email and message/news posts
★
★
Volunteer Management
Create roles, control signups, track participation
★
★
Use Your Own Website URL
★
★
Track Athlete Achievements
to control program registration eligibility
★
Track Athlete Skill Development
Evaluate and track goals in real-time and generate report cards
★
Dynamic Class Management
Group class participants, modify program waitlists
★
Attendance Tracking
using iPad or smart phone
★
Generate and Export Reports
including financial, membership, participants
★
Instructor / Staff Check-Ins
by session or participant
★
Serialized Ticket Sales
including real-time redemption
★
Eligible for Monthly Transaction Volume Discounts
★
Online Learning Centre
for club administrators (24/7)
★
★
★
Live Agent Support via Email
(M-F 8am-10pm EST)
★
★
★
Live Agent Support via Online Chat
(M-F 9am-5pm EST)
★
★
★
ONLINE PAYMENTS BY CREDIT CARD
If your club wants to offer online payments by credit card, you will also need two additional services that are separate from Uplifter:
1) A Payment Gateway account by Bambora (formerly called Beanstream)

The cost for the Bambora Payment Gateway account is: $49 one-time setup fee and then $10/month + $0.10 per transaction.
2) An online merchant account (bank account) by either Bambora or another Canadian institution
The cost for a Bambora online merchant account is 2.4% per transaction (for VISA/Mastercards). Alternatively, you can choose to have an online merchant account with a provider other than Bambora, however, please be aware that most banks charge higher credit card rates (approximately 2.7%-3.75%).
Bambora also has a new 'combo' $0 Monthly Account option. That account is much faster to setup, has no setup fee and no monthly fee, however, it does charge a slightly higher credit card rate of 2.6% and a payment gateway transaction fee of $0.15/transaction.
For more details, please contact our dedicated sales representative at Bambora:
Matthew Little, +1 (250) 483-7120, matthew.little@bambora.com
"Implementing the Uplifter system has been a win-win experience for our members, coaches and office staff. We now serve our members in a more efficient and eco-friendly manner with payments being processed in a timely and automated fashion. Our members are able to access their online personal skating calendars, details of their skater's test and program levels as well as upcoming payments. Benefits to our coaches include being able to sign-in from anywhere to access their skater's schedules and current test levels. By implementing Uplifter, we have been able to streamline the administrative side of our club, which has freed up resources to focus on our skaters and skating programs.
Doug Shelley, President, Skate Oakville, ON
« Concernant Uplifter, il n'y a que des bons mots à dire. L'interface du système est extrêmement intuitive, et la grande variété de fonctions nous permet d'offrir nombreux options d'inscription pour nos programmes du club. L'inscription en ligne n'a jamais été si facile! Le système est impressionnant, mais encore plus incroyable est l'équipe d'assistance technique. Ils sont EXCEPTIONNELS! Toute l'équipe est qualifiée et instruite en plus d'être patiente et agréable de travailler avec. Merci infiniment d'avoir amélioré notre club! »
Véronique Servant, Administratrice & Entraîneuse, CPA Saint-Laurent
"Uplifter has turned registration into a fast, convenient and painless process for everyone involved. We've greatly improved our club financials and made significant cost saving decisions because we now understand where our finances are at. Best of all, with less time spent on administration we can focus on more important things."
Al Ogrodniuk, Past President, Streetsville Meadowvale Figure Skating Club, ON
"I've been looking for tools to help me track skater development for years. To have these features purposely built into Uplifter's club management software is a huge benefit. I'll be able to accurately track all my skaters and use it to motivate them to achieve their goals faster."
Allen Carson, Coach
"It was a big job at first, but you gave us so much help that it didn't seem impossible. The system has given us a lot more freedom having reports and programs accessible to the executive members and coaches. Our coaches are taking advantage of seeing their class sizes with current live data, and our online attendance sheets are always up to date… The website is fantastic and easy to set up…and integrates perfectly with registration. There is consistency and simplicity and that helps busy parents navigate the site… And you are always making improvements so I am excited and look forward to seeing what is coming next!"
Corinne Morriscey, Administrator, Lake Bonavista Skating Club, AB
"With some dedicated work by a small team of four, we were able to create and launch our website with online registration in about three weeks! Uplifter's support during this was key as they responded to our questions very quickly and helped us overcome some hurdles along the way. We now enjoy a customer-facing tool that helps us capture new members quickly and easily, market the club and communicate with members. The tool will be a great time-saver for our volunteers now that we have this deployed and in operation."
Stephen Komarnicky, Past President, London Skating Club, ON
"I can attest to the passion this company has for our sport, and I have to assume sport in general. In my many and ongoing interactions with their team, I have found them to be not only involved with our sport through their club management platform, but also extremely active and engaged volunteers within the sport. It has been both a personal and professional pleasure to work with the team from Uplifter."
Norm Proft, Director Member Services, Skate Canada